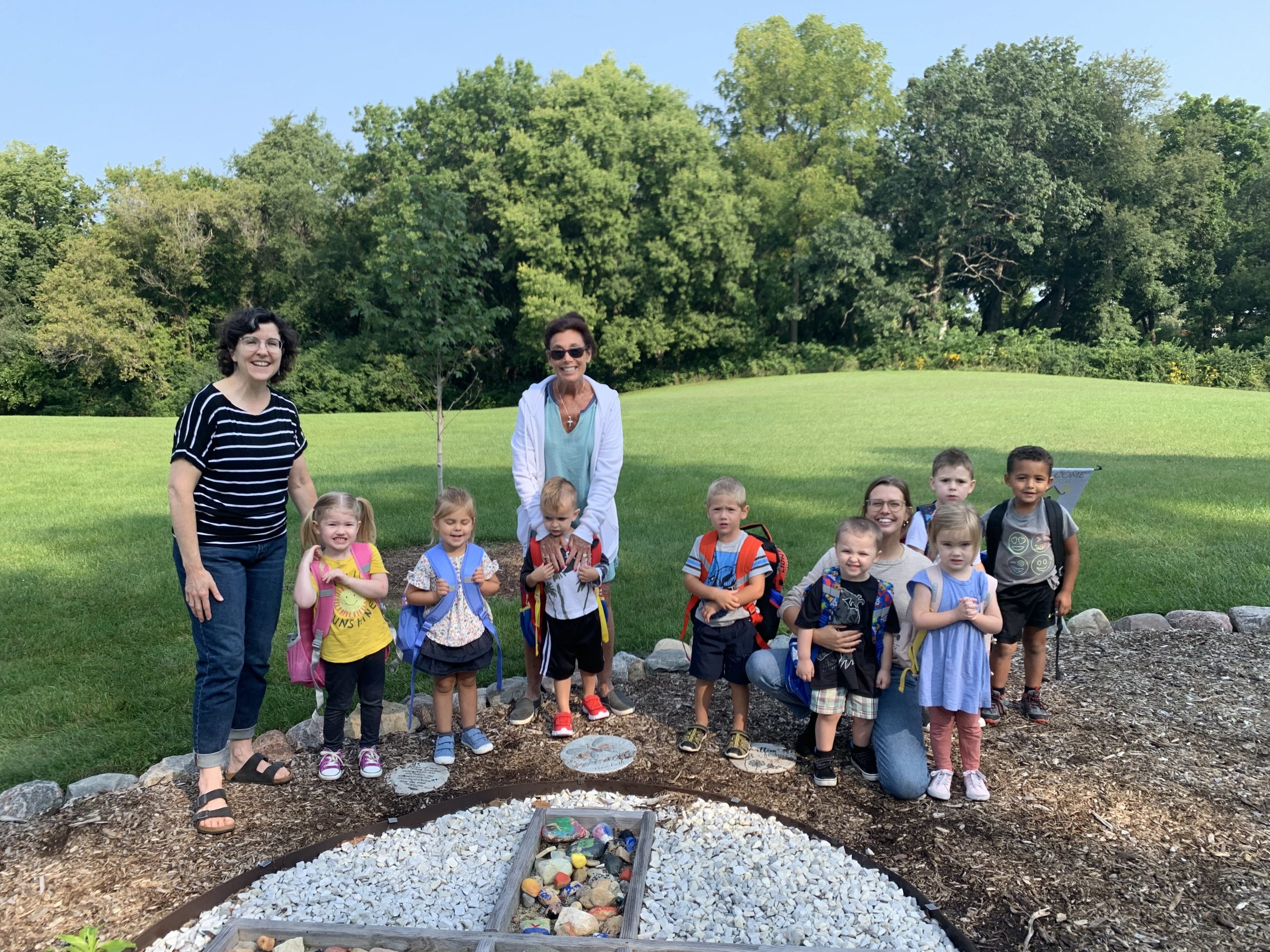 Ages and Stages (ASQ & ASQ SE)
The first five years of life are so very important to your child because this time sets the stage for success in school and later in life. During early childhood, many experiences should be gained and many skills learned. It is important to ensure that each child's development is proceeding without problems; therefore we are interested in helping you follow your child's growth and development.
The development screening will examine the following areas with the Ages and Stages Questionnaire (ASQ) developmental screening tool: Communication, Fine Motor, Gross Motor, Personal-Social and Problem Solving. (ASQ SE) will screen for Social Emotional development. 
It is totally voluntary but is a great tool for both parents and teachers to ensure the success of your child's development.  
The curriculum at St. Barnabas Christian Preschool aligns with the Illinois Early Learning Standards. Our teachers focus on multidimensional development of skills and competencies at each child's unique pace. Each class integrates education with socialization, with time to be creative and physically active too.
Illinois Bronze Circle of Quality
St. Barnabas Christian Preschool is proudly recognized by ExceleRate Illinois with the Bronze Circle of Quality. The merit is indicative of the qualifications and rigorous professional development trainings our teachers and administrators have completed. The trainings include areas such as developmental screening tools, family and community, and finding a curriculum that works, amongst other topics.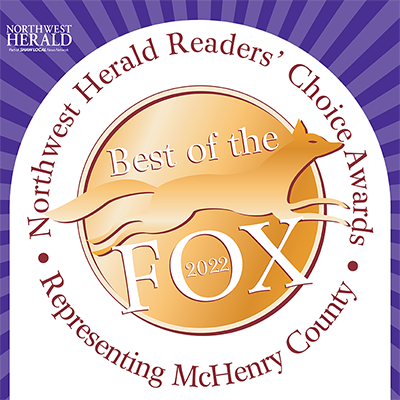 Best of the Fox is a list from Shaw Local News Network ranking and compiling the best of local Fox River Valley businesses. We have been voted One of the Best of the Fox as early as 2015 and most recently we were voted the Best of the Fox Preschools in 2022.
C.A.T.C.H. stands for Coordinated Approach to Child Health. This program empowers schools to align with local health and educational standards.  It focuses on "an approach to education defined by policies, practices, and relationships that ensure each child, in each school, in each community, is healthy, safe, engaged, supported, and challenged."
The 2 year old program is designed to help your child develop a positive self image through learning experiences. During this class a variety of games, songs and finger plays will be introduced along with free play.  These new experiences will help your child grow socially, emotionally, intellectually, physically and spiritually.  This is a parent/ grandparent/ adult and child class. Your child must be 2 years old by the start of class. No siblings in class please.
Program Overview
Circle Time
Free play with a craft
Community Clean Up
Snack
Songs, games, and story
Stretch-n-Grow once per month
In our Three Year Old classes our goals for our students include:
Learning to separate from parents and feel comfortable in school

Be respectful of others

Learn to follow simple directions

Introduce the Our Father and Pledge of Allegiance

Manage self-care

Take responsibility for their personal belongings

Learn through play

Use manipulatives for increased fine motor such as scissors, pencils, markers etc.

Gross Motor activities

Increase socialization and cognitive development

Learning Colors, numbers, and shapes

Introduction to Jolly Phonics
Three Year Old Class has two options:
2 days a week – Tuesdays and Thursdays 9:00am-11:30 am
 2 days a week – Mondays and Wednesdays 9:00am-11:30 am
In addition to everything in our  Three Year Old classes, our goals for our Four Years Olds students include:
Build a positive foundation for school
Learn the Our Father & Pledge of Allegiance
Jolly Phonics and sounds
Writing stations
Tracing letters, numbers, and shapes
Recognizing letters
Write their name
Put on their own coat, hat, boots etc.
Four Year Old Class has two options:
3 days a week – Monday, Wednesday, Thursday 9:00am-11:30 am
4 days a week – Monday-Thursday AM 9:00am – 11:30 am
Mondays-Thursday PM 12:30pm-3:00pm
Our Pre-K Class is everything your child needs to be ready for school. This program covers:

Introduce beginning sight words
Journaling
Faith and Prayer based centers
Jolly Phonics
Large Motor activities
Science Experiments
Math games and charts
Challenging the kids with academics
Preparation for Kindergarten
Pre-K Class
This age group meets Monday-Thursday from 12:30-3:00 pm.
Looking for something to do with your preschooler until the end of May? Try our Extend Your May program for extra time at the preschool with us!
Who doesn't love a day camp? We offer week long day camps in June that will challenge and engage the physical, mental, and emotional resources of each child. Our camps are from 9:00am-1:00pm for preschool aged children.
Curriculum Includes:
Age-appropriate Christian-based activities and visiting "God's House" are part of our weekly routine. Planned within the framework of the philosophy and purpose, our programs include:
Starting the day with prayer
Sharing and Conversation Time
Stories
Song and Finger Plays
Creative Art Projects and Crafts
Games and Large Muscle Activities
Science and Nature Activities
Exposure to Shapes, Colors, Numbers, Letters, and Sounds
Celebration of Birthdays and Holidays
Bi-monthly Stretch -n- Grow classes
Approximate Daily Program Schedule for the 3's and 4's
9:00-9:20 a.m. / 12:30-12:50 p.m. – Circle Time
9:20-9:30 a.m. / 12:50-1:00 p.m. – Story Time
9:30-10:00 a.m. / 1:00-1:30 p.m. – Group Time
10:00-10:40 a.m. / 1:30-2:10 p.m. – Socialization
10:40-10:50 a.m. / 2:10-2:20 p.m. – Clean Up
10:50-11:00 a.m. / 2:20-2:30 p.m. – Devotion
11:00-11:15 a.m.  / 2:30-2:45 p.m. – Snack
11:15-11:30 a.m. / 2:45-3:00 p.m. – Music/ Gross Motor/Outdoors
What is the average class size?
All classes are licensed through DCFS for 20 children. The 3's classes at most will have 16 due to the age of the children. Average class size is 12-15 with a head teacher and assistant, or two teachers.
How are drop-off and pick-up handled? Are there security measures in place?
All of our doors are locked and cannot be opened without a staff member opening them. We have Valet drop off and pick up to limit the amount of people that may access our building.
What does my child need to bring to class
How is separation anxiety handled?
Our staff is extremely caring and most of our staff are moms. Kathy will always reach out to you and give you an update.
What are your discipline policies?
Our discipline policy is described in detail in the handbook that every parent receives prior to class. We ask all parents to read the handbook and sign the confirmation sheet at the end stating they did so.  We're happy to answer any specific questions if you want to reach out to us.
How are allergies/dietary restrictions managed?
We are a nut free preschool. In the past we have had children with life threatening allergies and we want every parent to feel confident that their child is safe at school. We ask for all allergy information at registration and we list all allergies in our food pantry, classrooms, and teacher folders.
Are the classroom toys and furniture sanitized regularly?
We sanitize each bin of toys, countertops, tables, and door handles after each class with a bleach disinfectant spray. We also have installed Air Purification units in each class and office for an added layer of germ protection.
Potty Training policies/what happens if my child has an accident at school?
We can change a child with a potty accident but DCFS regulations will not allow us to change B.M's. The parent or guardian would be called.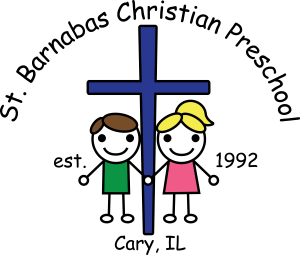 What Our Families are Saying
We have been so blessed to be part of the St. Barnabas Preschool family. My twins have been at St. Barnabas for the last three years and all of their experiences have been amazing! The preschool offers a loving environment for all. They offer experiences in which my twins have developed leaps and bounds spiritually, socially and academically. The teachers' communications allows for parents to be involved in their child's learning. My children are so excited to go to school each day! We are very thankful to St. Barnabas!
St. Barnabas Christian Preschool has been at the center of our lives for the past 4 years. It continues to provide an excellent educational and social foundation for our children. They have excelled in all areas and we are so grateful for all they have done for our family!
The teachers and staff are extremely warm and loving. Our children feel very safe and absolutely love going to school. We could not have asked for a better place to send them. St. Barnabas has become family to us and we wish we could stay there forever! ❤ Highly recommend this preschool!!
Our favorite school!!! We absolutely recommend them. This is truly a family. They care so much about their families. You will meet such wonderful people here. This is the best decision I have made for my child. She has had an excellent learning experience here. You can't help but to be happy when you walk in here. Also this school is so clean and my children haven't gotten sick nearly as much as they used too. The education my child has received has been top notch. A true community!!